Weigh in Motion System - WIMS
Introduction
Following extensive and successful trials on a stretch of the M6 motorway near Birmingham between June 2004 and December 2005, VIPER, VOSA's new traffic management system that incorporates ANPR (Automatic Number Plate Recognition) and WIMS (Weigh In Motion System) technology, was rolled out to 14 motorway locations across the UK. During its trial, this new technology achieved a 700% improvement in identifying and prohibiting overweight vehicles.
A joint programme by VOSA, the Highways Agency (HA), the Department for Transport (DfT) and the Central Motorway Police Group (CMPG), the pilot was operated between June 2004 and December 2005. The results were impressive, with over 95% of overweight vehicles identified and stopped by VIPER leading to a prohibition being issued and the vehicle being taken off the road.
Automatic Number Plate Recognition and Weigh In Motion Sensors play an important part in VOSA's move towards targeted enforcement. By integrating these technologies, offending vehicles can be specifically and accurately identified for possible action from a remote location, dramatically cutting the need to inconvenience law-abiding drivers.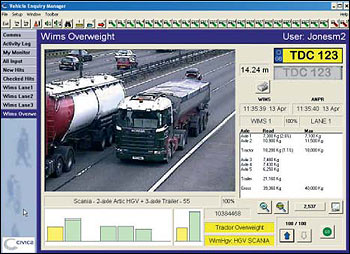 About the trials
The trial was designed to gauge the equipment's usefulness in allowing VOSA to identify overloading offenders more easily. It was hoped to achieve more effective use of VOSA's resources and, at the same time, reduce the burden on compliant operators by focusing mainly on potential offenders. There are also knock-on effects for the Highways Agency in the shape of reduced abnormal carriageway erosion and incident-related congestion.
The reduction on the burden of compliant operators and focusing mainly on potential offenders allows VOSA to;
to identify non-compliant operators more effectively
predict when non-compliant operators are more likely to be prevalent
provide a greater appreciation of commercial vehicles using the network; and
reduce the instances of overloading to enhance road safety, minimise disproportionate carriageway wear and reduce incident-related congestion
How does the System Work?
Goods vehicles travelling on motorways pass over a set of inductive loops and Peizo electric sensors set into the road surface, which weigh the vehicle while it is in motion. At the same time, the vehicle's number plate is snapped by an adjacent ANPR camera. This information is paired and sent to the checksite some 7 - 10 miles downstream of the ANPR/WiMS site. If the goods vehicle is deemed to be overweight, its details are forwarded to enforcement officers in a stopping vehicle. The targeted goods vehicle is then directed to an official weigh bridge where it is weighed (amongst other checks). If found to be overloaded, a prohibition notice will be issued, preventing further use. Dependant on the degree of overloading, the driver and operator may also be prosecuted.
How accurate is the system?
One of the trial's main objectives was to focus on the equipment's accuracy, both in its ability to identify correctly vehicles' registered numbers and its ability to weigh those vehicles within acceptable enforcement tolerances. When vehicle test results were analysed and compared with dynamic axle weighbridge readings, it was found accuracy levels were extremely high, unsurpassed by any other weigh-in-motion equipment used.
Of the 271 vehicles identified by the equipment as being overloaded during organised road checks, all were overweight and 204 were overweight to the extent that they were prohibited. These figures provide conclusive proof that this ANPR/WIMS installation gives VOSA enough targeting capability to ensure that a significant percentage of vehicles selected for weighing are actually overloaded. In addition to this, 52 drivers were prohibited for instances of serious drivers' hours breaches, and 44 prohibitions were issued for various mechanical defects.
What are the benefits?
Overloaded vehicles pose a number of risks that VOSA want to reduce including:
the safety risk and potential danger to other road users
damage to roads, bridges and pavements (the pilot prohibitions saved the equivalent road wear of over half a million saloon car journeys)
unfair disadvantage to tax paying, compliant road users
as well as helping to identify overloaded vehicles, VIPER assists in identifying drivers not conforming to regulation driving hours
There can be no doubt, ANPR when combined with other technologies such as WIMS is helping make the UK roads safer by enabling very accurate identification of overweight vehicles that potentially cause a danger to other motorists. The reduction in damage to UK roads caused by the removal of illegal over weight vehicles, helps reduce the costs of premature road repairs, allowing resources to be targeted where needed more beneficially.
Effective vehicle weight enforcement
Early analysis of the ANPR/WIMS equipment trial results undoubtedly shows that the combined technology provides VOSA with a highly effective targeting tool for vehicle weight enforcement. There is a vast difference between the levels of effectiveness in the trial weighing and those from the most recent period of pre-ANPR/WIMS implementation
Copyright © 2007 - | Transports Friend