Determining HGV Rules
The flow chart (below) will guide you through the process of what rules apply to your operation. A full list of countries that fall within EU or AETR operations can be found at the foot of this page, with all rules applicable to all operations available within this section.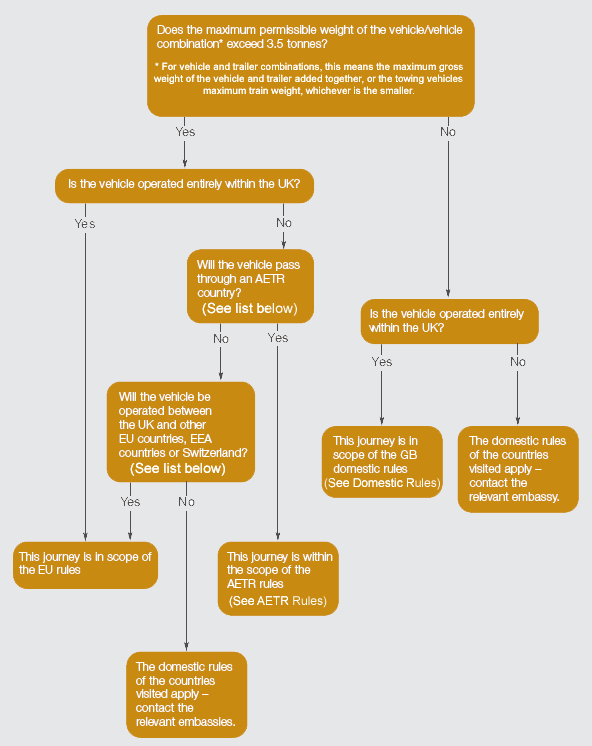 List of EU, AETR and EEA Countries.
EU countries
Austria
Belgium
Bulgaria
Cyprus
Czech Republic
Denmark
Estonia
Finland
France
Germany
Greece
Hungary
Ireland
Italy
Latvia
Lithuania
Luxembourg
Malta
Netherlands
Poland
Portugal
Romania
Slovakia
Slovenia
Spain
Sweden
UK
AETR countries
Albania
Andorra
Armenia
Azerbaijan
Belarus
Bosnia and Herzegovina
Croatia
Kazakhstan
Liechtenstein
Macedonia
Moldova
Russia
Serbia and Montenegro
Turkey
Turkmenistan
Ukraine
Uzbekistan
European Economic Area (EEA)
All the EU Countries
Iceland
Liechtenstein
Norway



Key Information

Reminder: Switzerland is not a member of the European Union.



AETR Rules

Domestic Rules
Source - VOSA
Copyright © 2007 - | Transports Friend