Import/Export Freight Clearance
Introduction
For all companies and drivers who require Import or Export Freight clearance prior to departing/entering the UK, it is imperative that ensure that your documentation is in order and that your vehicle(s) have been customs cleared to proceed. Failure to do so will undoubtedly result in complex problems later in your journey.
The Freight Clearance Facility can be found at Dover Western Docks and it should be your vehicles first port of call if you require:

Export Freight Clearance If your load requires customs export clearance, do not enter Eastern Docks. Proceed directly to Dover Western docks Freight Clearance Facility before travelling, which is clearly signposted;
Import Freight Clearance - If your load requires customs import clearance, do not continue your journey onto the UK road network. Proceed directly to Dover Western docks Freight Clearance Facility before travelling.
At both Eastern and Western Docks, there is a Freight Services Agency (FSA), who will assist you if there are problems with your vehicle(s) load, as well as offering other services for your vehicle(s) and driver(s) (see below).
FSA - Eastern Docks
The Freight Services Agency (FSA) at Eastern Docks operates a range of practical services designed to make your use of our port as smooth, swift and efficient as possible. Available 24 hours a day, 364 days a year, the FSA offers the following services at the Ferry Terminal (Eastern Docks):
Transhipment Service - Full vehicle to vehicle transhipment services including frozen and chilled goods handling with temperature controlled facilities. Offloads, re-stows and load lifting, plus fork lift truck hire.
Dynamic Axle Weigher - Instant weight read-outs or certified tickets - the facility is self-service and free of charge unless you require a weight ticket in which case a small charge is made. All enquiries to be made at the FSA bay office.
Truckwash - 24 hour self-service truckwash for all vehicle sizes - tokens are available from the Freight Services Agency in the Ferry Terminal (Tel +44 (0) 1304 204948).
FSA - Western Docks
The following 24 hour services are available from the FSA at the Freight Clearance Facility (Western Docks):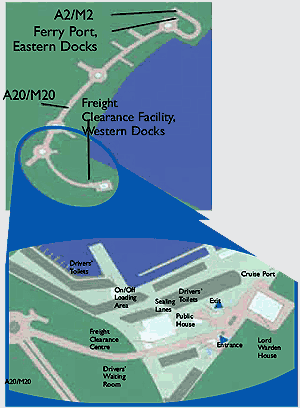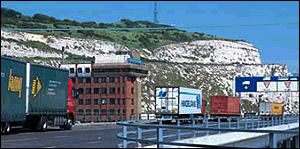 Customs Clearance - The UK's fastest customs entry and clearance of non-EU originating goods and exports. To speed up the customs clearance process, the Dover ClearWay System offers computer based facilities for declarations to HM Revenue & Customs subject to the signing of an agreement to provide facilities. A licence fee is payable monthly and service charges are made for usage and data network connections.
On arrival at the Freight Clearance Facility, take a parking control ticket at the entrance. If you need a seals check, drive straight to the Sealing Lanes at the Freight Clearance Centre. On completion, retain the seals check documentation and report to the FSA counter which is located in the Freight Clearance Centre. The FSA will be able to contact your agent. Keep your parking control ticket with you at all times.
If you do not require a seals check, go straight to parking and report to the FSA or your agent with your parking control ticket. Please note, strict parking conditions apply in the Freight Clearance Facility and you will only be able to park for a limited time free of charge.
A copy of the conditions and further clearance information is available from the FSA. For more information about the FSA and charges please contact them:
Email [email protected]
Tel +44 (0)1304 210 994
EUR-1/ATR Certificate Authentication
If you need an EUR-1 or ATR certificate authenticated, a service is provided in the Freight Clearance Centre by both George Hammond PLC and Johnson Stevens Agencies Ltd (JSA). These arrangements have been made to ensure your clearance is not delayed. A charge will be made for each EUR-1/ATR certificate requiring authentication. You can pay in cash or by credit card (Visa/MasterCard), or you can establish a credit account - see Freight Agents Directory (below).
Freight Agents
For a complete list of Freight Agents including contact numbers and email address's, simply download the word document below.
Freight Agents Directory

Copyright © 2007 - | Transports Friend