Eurotunnel - Coach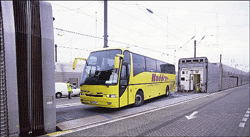 Coach Reservations
For Coach reservations -

[email protected]
Vehicle Restrictions
To ensure that your vehicle is able to use the Eurotunnel service, the maximum length and height of vehicles able to be carried are:
Length - 18.75 metres
Height - 4.2 metres
Bus/Coach Security Checks
Coaches are not subjected to Euroscan checks, this procedure is confined to Freight Traffic only. However, in common with other traffic using the passenger shuttle service, buses and coaches are stopped and subjected to random security checks at the same ratio as that in place for cars.
In the event of specific intelligence regarding a coach or a person onboard, this would result in the vehicle being stopped at the point of departure (France or the UK) and the bus or coach in question would be the subject of security check procedures.
In much the same way as freight vehicles, buses and coaches can be subjected to occasional checks by VOSA officers working at either Terminal. However it is important to note that this occurs no more frequently than happens at the Port of Dover or any other port of departure in the UK.
Frequently asked Questions
The information below are the most Frequently asked questions from passenger carrying operators who are new to the Eurotunnel service. Some of the faqs below are crucial in ensuring your vehicle(s) are accepted for travel with Eurotunnel, failure to adhere to any Policy requirement by Eurotunnel may mean that your vehicle(s) are refused travel
How long does the crossing last? - The crossing takes just 35 minutes from platform to platform, although this can sometimes increase to 45 minutes at night.
Is there a Duty Free Shop? - Duty Free sales when travelling within Europe stopped in 1999. However, there are retail outlets, in both the Calais and Folkestone Passenger Terminal Buildings. The retail outlets are situated in the Passenger Terminal Buildings after passing through Check-in.
How does the coach get on the shuttle? - Having passed through Check-in, coaches can stop at the Passenger Terminal Building and visit the retails outlets. When the departure is called coaches proceed through the security and border control area to the allocation area. Drivers should follow the green arrows and directions given by Eurotunnel staff to the platform and then onto the shuttle when directed by a member of train crew.
What happens in the event of an accident? - Eurotunnel staff are fully trained in Health and Safety and are able to give First Aid. They are fully aware of the evacuation procedures. Fire fighters are always on site.
What identification should I bring with me? - The coach driver will need a way bill and all drivers and passengers must be in possession of a valid 10 year passport.
What happens if I miss my departure time? - You are likely to be subjected to delays, therefore it is strongly recommended that you arrive in plenty of time for your reserved departure. If you miss your booked departure you may also be required to purchase a new ticket.
I have a double decker coach. Can I still travel on Eurotunnel? - Yes, as long as your vehicle is under 4.2 metres/13 ft 9 ins in height.
Can my coach tow a trailer? - Yes, as long as the coach plus trailer combination does not exceed 18 metres in length.
I have a group of football supporters travelling on my coach. What information will you need from us? - Eurotunnel need a full passenger list, including the duration and details of the match they will be attending. This information must be notified to Eurotunnel's Coach Sales Centre no less than 48 hours prior to departure.
Can you smoke on the train? - For reasons of safety, smoking is not allowed as it interferes with the fire detection systems.
How long before the departure time should I arrive? - Coaches should arrive at Check-in at least 45 minutes before departure for direct boarding and 90 minutes if you are planning to stop in the Passenger Terminal Building.
Do you need a passenger list? - Not unless you are carrying football supporters or have Eurotunnel insurance with your booking.
Are there facilities on board the shuttle? - Yes. Limited toilet facilities are available at either end of the single deck carriages, although passengers should be encouraged to visit the toilets in the Passenger Terminal Building or in the allocation area prior to boarding the shuttle.
Further Information
For further information including account information for Bus and Coach Operators, please use the link below.
Copyright © 2007 - | Transports Friend