Eurotunnel - Freight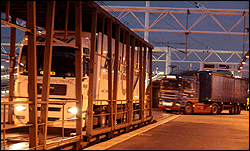 Freight Commercial Departments
For further information, to make a booking or enquire about opening an account with Eurotunnel Freight, please contact your local Freight Commercial Department.
United Kingdom, Ireland
Tel: +44 (0)1303 282 244
Fax: +44 (0)1303 283 500


[email protected]
France, Belgium, Luxembourg, Spain, Portugal
Tel: +33 (0)3 21 00 64 65
Fax: +33 (0)3 21 00 61 59


[email protected]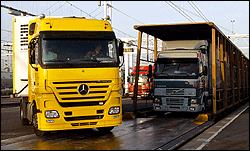 The Netherlands
Tel: 0900 504 0552
Fax: 0900 504 0602


[email protected]
Italy, Greece
Tel: +39 (0)547 639 911
Fax: +39 (0)547 384 472


[email protected]
Germany, Austria, Poland, Switzerland, Denmark, Czech Republic
Tel: +49 (221) 534 106.0
Fax: +49 (221) 534 106.16


[email protected]
Office opening times: 0900 - 17.30 Monday to Friday (Local Times)
Eurotunnel 24/7 customer information line
In English - +44 (0)8444 63 0000 *
In French - +33 (0)820 72 72 72 **
* Local rate applies @ 2pp min
** 0,118 €/mn from a French landline. International rate applies which is dependent on your country operator.

Safety Information - Upon arriving at the Eurotunnel facility you will be reminded of the requirements for safety, which must be observed at all times. Prior to embarkation, the following points must be adhered to:
All passengers must be declared - no charges are incurred for additional passengers. Failure to declare all passengers is a breach of conditions and you may be refused travel.
Please note that for safety reasons, drivers and/or passenger with reduced mobility cannot be accommodated on Eurotunnel Freight shuttles.
No smoking.
The speed limit is 6 mph/10 km/h on the Freight shuttle.
Keep cab curtains open at all times.
Lower your aerials.
Turn off all electrical equipment in your cab after loading.
Do not stay in your vehicle. Turn your cab heater and refrigerator off.
Ensure your fuel cap is on.
Only children aged 12 years and over are authorised to travel on the freight shuttles.
No livestock, animals or domestic pets are accepted for carriage on the Freight shuttles.
Vehicle restrictions - To ensure that your vehicle is able to use the Eurotunnel service, the maximum size and weight of vehicles able to be carried are:
Length - 18.75 metres
Height - 4.2 metres
Weight - 44 tonnes
If you have any questions about whether your vehicle or the cargo you are carrying complies with Eurotunnel policy, please contact the Freight Commercial Team by email at [email protected]
Firearms - For information regarding firearms, please check Eurotunnel's Carriage of Firearms and Fireworks
Hazardous Goods - The Channel Tunnel has been designed to be one of the safest transport systems. However, like other forms of transport, it allows the carriage of a wide variety of goods classified as 'hazardous', subject to strict regulations.
Eurotunnel Freight account holders can download Eurotunnel's ADR policy using online services or simply access ADR information via the online guide.
This allows operators to make sure that any hazardous goods being carried adhere to the conditions of travel. If you are not an account holder and you would like information on travelling with hazardous goods with Eurotunnel or if you would like to order an electronic copy of the practical guide, please contact your local Freight Commercial Department using the contact details at the top of his page.
Further Information
For further information include booking information or account enquiries for Freight please visit the Eurotunnel website at the link below.
Copyright © 2007 - | Transports Friend