Trailers
Introduction
Trailers come in many shapes and sizes depending upon the operational activity they were designed to carry out, as a result of the construction and operational use of the trailer, this will also have a bearing upon its width.
C&U Regs 1986 have the following regulations that are applicable to trailers;
Regulation 83 - Number of Trailers
Regulation 84 - Trailers drawn by Motorcycles
Regulation 85 - Trailers drawn by agricultural motor vehicles
Regulation 86 - Distance between motor vehicles and trailers
Regulation 86A - Use of secondary coupling on trailers
Regulation 86B - Use of mechanical coupling devices
Regulation 87 - Unbraked trailers

Regulation 88 - Revoked
Regulation 89 - Leaving trailers at rest
Regulation 90 - Passengers in trailers
Regulation 91 - Revoked
Regulation 92 - Attachment of sidecars
Regulation 93 - Use of sidecars
Weights on unbraked trailers
Every unbraked trailer must have its maximum gross weight in kilograms clearly marked on the nearside. The name and address of the owner is only required to be marked on:
milk floats and ice cream vans;
vehicles from which solid fuel is sold in open sacks. The capacity of the sacks must also be displayed in metric units.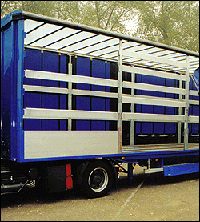 Gross Weights
There is no legal requirement that gross weights should be displayed apart from on the manufacturer's and Ministry plates. If operators wish they may display this information on the side of their vehicles for the guidance of weighbridge attendants, etc.
Dimensions
Vans, lorries, minibuses and large passenger vehicles first registered after 17 September 1997 must display the width, length and where applicable, the distance from the kingpin to the front and rear of the vehicle on either the manufacturers plate or a separate plate fixed to the vehicle. If the information is supplied to VI, using form VTG101 or using the Certificate of Conformity, they will incorporate it into the VI plate.
Overall Length
The construction and use regulations clarify which structures count towards the overall length of the vehicle. Account must be taken of any part of the vehicle, including any permanent receptacle strong enough for repeated use, and fittings on or attached to the vehicle, with the following exceptions:
sheeting;
an empty receptacle which is itself the load;
a receptacle containing an indivisible load;
a receptacle not over 2.5 metres in length or width;
lifting lugs for multi-modal transport;
tailboards let down to facilitate carriage but not essential to support loads extending beyond the rearmost point of the vehicle;
bridging plates on vehicles with trailers, used to facilitate loading and unloading of vehicles carried but not to support them;
receptacles, other than maritime containers, manufactured before 30 October 1985 (this legalised certain existing demountable bodies);
cranes, etc that do not increase the vehicle's carrying capacity and are a permanent or essentially permanent fixture.
The regulations define "removable superstructure and standardised freight items such as containers" as being included in the vehicle dimensions regardless of whether or not they are empty. (Directive 96/53/EC Annex 1 1.4.)
Vehicle Type
Maximum Permitted length
Rigid Vehicle
12 metres
Articulated Vehicle
**16.5 metres
Articulated vehicle with a low loader semi-trailer manufactured on or after I April 1991
(excluding step-frame low loaders)
18 metres
Car transporter semi-trailer:
kingpin to rear
kingpin to any point on the front

12.5 metres
4.19 metres
Other semi-trailers: kingpin to rear
kingpin to any point on the front

*12 metres
*2.04 metres
Composite Trailer
14.04 metres
Drawbar trailer (excluding length of drawbar) provided:
1. the trailer has four or more wheels
2. the drawing vehicle has a maximum gross weight over 3,500kg


**12 metres
Other drawbar trailers (excluding length of the drawbar)
7 metres
Road-train:
one trailer
two trailers

***18.75 metres
¥25.9 metres
¥ Vehicle drawing more than one trailer are limited to 9.2 metres in length.

* These dimensions include the thickness of any front or rear wall. If there is more than one kingpin position the measurement is taken from the rearmost position on semi-trailers manufactured before 1 January 1999, and from the foremost position if manufactured on or after 1 January 1999.

** No set limit if designed to carry indivisible loads of exceptional length.

*** The distance from the foremost part of the loading area behind the cab to the rear of the trailer must not exceed 16.4 metres and this distance, less the distance between the vehicle and trailer, must not exceed 15.65 metres (this is the maximum length of the load carrying space). The registration of new road trains with a load space length exceeding 15.65 metres was precluded under EU directive 96/53 with effect from 1 June 1998. The use of pre 1st June 1998 road trains with a load space length exceeding 15.6 5metres will be prohibited from 31 December 2006.
Width of Trailer
In calculating overall width, account is taken of any part of the vehicle, any receptacle which is permanent and strong enough for repeated use, and fittings on or attached to the vehicle. The exceptions are the same as those listed previously for overall length.
A load may not project laterally more than 305 millimetres on either side of the vehicle or trailer. The overall width of vehicle and load must not exceed 2.9 metres. There are exceptions for indivisible loads subject to special rules, and loose agricultural produce.
Trailers
Maximum Permitted Width
Provided that:
1. every wheel has a pneumatic tyre.
2. the drawing vehicle has a maximum gross weightin excess of 3,500 kg.
3. every wheel of the towing vehicle (other than a locomotive) has a pneumatic tyre

2.55 metres
Trailers constructed to carry goods at reduced temperatures with a body side wall thickness of at least 45 millimetres
2.6 metres
Other trailers
2.3 metres
Minimum Ground Clearance


Trailers subject to the minimum ground clearance rules must keep to the minimum at all times when in use on a road. Exceptions are provided:
for a trailer fitted with a suspension system with which it may be lowered or raised:
while that system is being operated to enable the trailer to pass under a bridge or other obstruction; and
as long as no part of the trailer (excluding wheels) touches the ground or is likely to do so; or
while loading or unloading.
To minimise the risks of grounding on railway level crossings etc, every trailer manufactured on or after 1 April 1984 must meet minimum ground clearance rules. There must be a minimum ground clearance of 160 millimetres if the trailer has an axle interspace of more than 6 metres but less than 11.5 metres, and a minimum clearance of 190 millimetres if the trailer has an axle interspace of 11.5 metres or more.
Copyright © 2007 - | Transports Friend