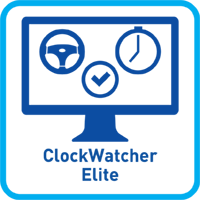 Web-based tachograph analysis
Aquarius has had a reputation for excellence since its inception in 2005 and during this time we have continuously developed our software solution, known as 'ClockWatcher', for the road transport industry.
In 2005, we were the first company to offer analogue and digital tachograph analysis software in one package; this enabled road transport customers to self-analyse and manage their own driver and vehicle data simply.

We are constantly evolving our software solutions in line with developments in technology and customer's needs; yet the underlying core technical functionality remains the same, which is a testament to the system's original design.

"Our focus has always been about making sure that the features and usability of our software is the best it can be". We then combine our skills and knowledge of the legislation to identify how it can be utilised alongside other mobile and business tools to help simplify and improve the efficiencies of a modern transport operations such as remote downloading of vehicles and driver cards.
Mark Johnston Customer Service Director

ClockWatcher Lite was borne from this ethos. It is our new generation of software that helps operators to work smartly and efficiently across all areas of compliance and driver/vehicle management - from one source, one dashboard, and one log-in.

We also have our unique digital signature capture innovation, which has already transformed the management of compliance requirements for many companies, by enabling the digital capture of driver signatures on infringement documentation via touchscreen tablets and PCs.

With clients ranging from major hauliers and well-known brands to small owner-drivers — and everything in between — our complete end-to-end solution helps operators of all sizes and disciplines manage their compliance responsibilities with ease.