About this site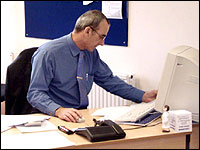 Launched in February 2007, the Transports' Friend website was a FREE online information portal promoting Road Safety and Operator Compliance. It is specifically designed for the Road Haulage Industry and now Fllet Operators (Drivers & Operators), although it is a pertinent information resource to all involved in Road Transport.
Starting up and maintaining a lawful presence within todays Road Transport Industry is dependent upon, understanding and abiding by, the many rules and regulations that govern it. The Transports' Friend website is designed to offer guidance and support on all aspects of transport law, from an initial operators licence application, through to the Health and Safety and Employment requirements.
Since the heady days of control books to the infancy of digital tachographs, we have struggled to understand how lorry drivers and managers alike have been expected to decipher and comprehend the confusing transport legislation that is forced upon them. Like you, we've asked ourselves many times over the years why all the information to assist in the successful running of any transport operation isn't all together under one roof - well now it is, welcome to Transports' Friend.
Transports' Friend is not wholly about licenses and trucks, but equally about the many other issues that the industry has to face, including the everyday issues relating to Health and Safety and Employment Law. As a result, Transports' Friend brings together everything specific to a particular sector of the industry, offering guidance and advice that is straightforward, simple, and in plain English.
The website has a total of 9 x Transport Directories and 400 pages of legal information under 14 sector headings. There is also a standalone section of industry news which is linked from a news section on the home page. In total there are circa 25 pages of industry news added every month, including updates from Vosa, road safety press releases and industry news from the major manufacturers including Volvo, Scania, Mercedes-Benz, and Michelin to name but a few.
For those companies seeking a media platform that has a distinctive presence in the transport industry, the Transports' Friend website enjoys a solid presence, receiving an average of 8.3 million hits per annum and an average of 35,000 visitors every month, which is growing year on year.
It's hoped that the fact that you're viewing this site has already offered you the assistance you're seeking. However, asides from the main body of information you'll find on each page, there is further assistance in the shape of:
further reading via the links at the foot of most pages, which will take you to further information relating to the topic being viewed. These links will be continually checked to ensure they are active, and will be updated where necessary.
downloadable spreadsheets and word documents which are ready for your use.
other organisations and companies able to offer support via this site.
keyword search facility at the top of every page. This search facility does not search the entire web, it has been configured to only search organisations that are specific to our industry, thus saving you time.
For further information email us at
Transports Friend

Copyright © 2007 - | Transports Friend