Markings & Placards
Introduction
In Britain there have been few serious accidents directly resulting from the carriage of dangerous goods. However, there are frequent accidents involving vehicles carrying dangerous goods and loss of containment often occurs to some extent. Proper identification of vehicles and information about the goods they are carrying is thus important. HSE's experience from roadside checks is that about one in three of those vehicles carrying dangerous goods and selected for inspection exhibit breaches of one sort or another.
Placarding and marking of vehicles
As with marking and labelling these words mean different things, and apply to vehicles and containers, MEGCs (multi element gas container - defined in ADR 1.2.1), tank containers, and portable tanks.
placarding is described in 5.3.1 and refers to the 'hazard diamonds' that are a familiar part of the overall warning system
marking is described in 5.3.2 and refers to the plain orange plates carried at the front of vehicles (and on the back of vehicles carrying packages) and to the other marks on the sides and backs of vehicles
Placarding
Placarding is the process of placing on the tank, container etc. the hazard diamonds referred to in column 5 of table A (analogous to labelling of packages). The precise details of sizes and so on are at 5.3.1.7. For small tanks or containers smaller placards can be used (5.3.1.7.3 - allows 'package labels' to be used).
Placards have to be displayed as indicated in 5.3.1.2 to 5.3.1.6 according to the type of load.
Marking
Marking is the process of placing on the vehicle and the tank, container etc, the orange plates. See ADR 5.3.2.
ADR allows the familiar plain orange plate to be divided by a horizontal black line (5.3.2.2.1).
Vehicles carrying packages
In all cases the plain orange plates for vehicles carrying packages are as described in ADR at 5.3.2.1.1. A plain orange plate is fixed at front and back of the 'transport unit' (See Fig 2.). Note the extra requirement for vehicles carrying class 1 (explosives) and class 7 (radio-active substances) to display placards (hazard diamonds) on both sides and the rear of the vehicle (ADR 5.3.1.5).

Fig 2.
Carrying packages in freight containers
This is similar to the above but in this case the freight container should display relevant placards (hazard diamonds) on all four sides of the container (See Fig 3.).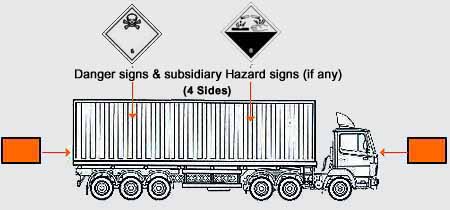 Fig 3.
ADR 2009 continues the requirement of Special Provision CV 36 (see 7.5.11 and table A column 18). This requires vehicles carrying packages of gases which could vitiate the atmosphere to be carried in open or ventilated vehicles/containers or if that is not feasible the cargo doors have to carry a suitable warning.
Tanks, tank containers
Different requirements apply to GB domestic journeys and international journeys. CDG 2009 (at regulation 91 and via the 'Secretary of State's document') implements a national derogation that requires GB registered vehicles on GB domestic journeys to be marked with the familiar 'Emergency Action Codes' (sometimes called 'Hazchem codes'), and to include a telephone number for advice in the event of an emergency. This is implemented through the 'Secretary of State's approved document'. This is in addition to the plain orange plate at the front of the vehicle. Note that paragraph 5(3) of schedule 7 allows the hazard warning panel not to be fire resisting for tanks made before 1 January 2005.
GB registered vehicle on GB domestic journey
Fig 4. shows the placards required on a GB registered vehicle on a GB domestic journey
Information for Fig 4 (opposite)

Hazard Warning Panel - Subsidiary hazard signs will also have to be displayed if the goods have subsidiary hazard(s).

Orange Coloured Panel - Displaying the Emergency Action code and the UN number.

Danger Sign - Subsidiary hazard signs will also have to be displayed if the goods have subsidiary hazard(s).

Telephone number for specialist advice.

Plain Orange Panel - To be fixed to the Front of the vehicle.
International Journeys
Vehicles on international journeys carry the HIN (hazard identification number - sometimes called the Kemler code) in the pattern shown at ADR para 5.3.2.2.3. - see example Fig 5. below.
These are in addition to the placards (hazard warning diamonds).
Plates should be displayed at the rear and both sides, with a plain orange plate at the front. Where one substance only is carried it is permissible to display plates at front and rear only provided the front plate also carries the HIN code and UN Number. There is no requirement to display a telephone number. An international journey is described at ADR 1.1.2.4.
Documentation
Chapter 5.4 of ADR covers this in the usual detail; see also (Documentation). The key requirements are that the documentation contains the following information (5.4.1.1):
the UN Number
proper shipping name
class (with subsidiary hazard, if any, in brackets)
packing group (where assigned)
number and description of packages
total quantity of each item of different UN Number
name/address of consignor
name /address of consignee(s). Where there are multiple consignees not known at the start of the journey, the words 'Delivery Sale' may be used.
Declaration relating to any special agreement, where applicable (uncommon)
ADR prescribes the order in which this information is shown. New for ADR 2009 (and effective from 1 January 2010) is the addition of tunnel codes except where it is known that the journey will not involve passing through a relevant tunnel.
There is no requirement for all information to be on one document. Where a vehicle has picked up loads from more than one consignor this would clearly not be possible.
There are special rules for wastes, salvage packagings, and empty uncleaned packaging etc (5.4.1.1.3 to 5.4.1.1.6). For more on empty uncleaned packaging and wastes visit the HSE website page Common Problems
For empty tanks and bulk there are other rules about documentation in 5.4.1.1.6. See also Common Problems
Where loads are being carried on domestic journeys under the limited load threshold (ADR 1.1.3.6 - more details in Main exemptions) the requirement to carry documentation is disapplied (except for explosives and radioactives). Details in the document 'Dangerous Goods: Approved Derogations and Transitional Provisions' The requirement to furnish the carrier with documentation still applies.
Other special rules cover:
loads in a transport chain that includes air or sea (5.4.1.1.7)
carriage in 'date expired' IBCs (5.4.1.1.11 - details in 4.1.2.2)
multi compartment tanks or transport units with more than one tank (5.4.1.1.13)
elevated temperature substances (5.4.1.1.14)
substances stabilised by temperature control (5.4.1.1.15)
There are other rules for class 1 (explosives) class 2 (gases), class 4.1 (flammable solids etc.), class 5.2 (organic peroxides), class 6.2 (infectious substances) class 7 (radioactives). These are in ADR 5.4.1.2. The most likely to be met are those relating to gas mixtures where the composition of the mixture should be given (5.4.1.2.2(a)).
Language and format
The language should be that of the forwarding country and one of English, French or German if not already on the document (5.4.1.4.1). This means that, especially for international journeys, the documents may not be in English and that is one reason why the layout of the information referred to in 5.4.1.1.1 is important.
Instructions in writing (Emergency information)
Emergency information is a separate consideration from documentation and is covered in Crew and Vehicle.
Source - HSE
Further Reading
For further information on ADR (2011) and CDG (2009), please use the links below.
Copyright © 2007 - | Transports Friend