Licence Application
Introduction
Application for provisional licences or detail changes can be made either online at Direct Gov or in person at the post office on form D1.
If you hold a valid full photocard Driving licence and want to apply for a provisional driving licence to drive larger vehicles, minibuses and buses, the completion of the application form D2 and the nedical report form D4, by your doctor must be submitted. You must also enclose your photocard driving licence with the D740 paper counterpart) and send to DVLA, Swansea, SA99 1BR.
Holders of the paper style licence will need to complete forms D2 and D4 and send these to Swansea. These documents will need to be accompanied with additional forms of identity, which could be a digita! passport. DVLA is able to confirm your identity with the Identity and Passport Service.
For all applications made online, you'll be asked to provide your nine digit passport number, and when applying by post, on form D1, it is imperative you write your nine digit passport number and ensure you sign in the 'confirming your identity' section.
Confirming your identity
Asides from the information laid out in the introduction (above), DVLA also accepts the following original documentation as confirmation of your identity. However, unlike the digital passport, you'll need to send the following with your application.
Full valid current passport.
Identity card issued by a member state of the European Community/European Economic Area (EC/EEC).
Travel documents issued by the Home Office.
UK certificate of naturalisation.
Provisional applications for vocational licences will be accepted up to three months before the date which the licence is to be effective, and two months for an ordinary licence.
An applicant for vocational entitlement must give details of any conviction within the past 4 years for motoring, drivers' hours and records, overloading and construction and use offences. Driving under the influence of drink or drugs convictions must be declared for an 11 year period.
All previous offences relating to any of the above are notifiable .
Licence renewal
Paper licence holders will normally be sent a form D47 and D750 reminder application forms from DVLA, as well as a D4 medical report form that must be completed by a doctor. These forms will normally be sent to you 90 days before the expiry of your driving entitlement.
If you are a photocard driving licence holder you will only be sent a D47 reminder application form and a D4 medical report form, these forms must be completed in full. However, there is no requirement to send any form of identification, or a photograph.
If (for any reason), you do not receive the reminder application forms to renew your driving licence, you can use the D2 application form with a D4 medical report form, which available from the DVLA form ordering service.
If a licence renewal application is submitted before the previous licence expires, the previous licence will continue in force until the new licence is issued. However, the following conditions apply, inasmuch as that:
you have held a GB or Northern Ireland licence issued since 1 January 1976 or another. exchangeable licence;
you are not disqualified from driving (there are different rules for medium/large vehicles and minibus/bus drivers (the Traffic Commissioner for your area will decide whether to grant your entitlement to drive these vehicles);
you have not been, and would not be, refused a licence for medical reasons;
you keep to any special conditions which apply to the licence.
The following must be submitted with the application:
expiring licence and counterpart if applicable;
current ordinary driving licence, if applicable;
medical report on form D4 if the applicant is 45 years of age or over (for vocational licences);
completed renewal application forms as applicable, ie D4, D2, or D750.
Additional requirements
A person applying for a full or provisional category C entitlement must:
not be suspended or disqualified from holding or obtaining a vocational licence;
hold an ordinary full driving licence, entitling them to drive category B vehicles;
be at least 21;
be fit to hold the licence having regard to health and any disability;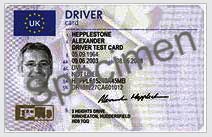 Photocard Licences
The second EC directive on driver licensing required a photograph to be placed on a new style of licence - the first of which was issued in July 1998. Although paper licences are still in circulation all applicants for new or renewals will be sent the photocard type.
In 2007 DVLA began issuing a new style of photocard licence with enhanced security features. The card is made entirely from polycarbonate with the new version having a black and white photograph while the older version had a colour one.
The card will show details which include a photographic image of the driver, complete with signature, driver number, address and date of birth and categories of vehicle which the holder is entitled to drive. Issued at the same time is a paper counterpart to the licence which shows the categories a holder can learn to drive, previous entitlement history, any valid endorsements including penalty points and periods of disqualification. Operators should check the counterpart licence on a regular basis to ensure that drivers have not gained endorsements or lost their entitlement to drive.
Licence checking service
In 2007 DVLA released a consultation with details of an online driver licence checking service. This service would be accessed slightly differently dependant on the nature of the enquiry, ie either an individual licence holder or a company looking to check a driver's licence. The individual would be able to access the service via the Direct Gov website free of charge.
Employers will need to register with DVLA and store the mandate signed by the driver, which could be audited by DVLA. Current thinking at DVLA is to phase out the older paper formats of licence by 2010 at the very latest, which means that all licence replacements will be of the photocard style. Holders who wish to update their licence before the recall will be able to do so, on form D1 available from the post office.
Photographs
The photograph used on a licence must conform to specific requirements. These include a colour passport style (and size) photograph (size of image 45mm x 35mm), which is a recent and true likeness showing the full face, with no hat, helmet or sunglasses, although you can wear everyday glasses. This should be taken against a plain, evenly lit and light background.
If you send a full valid current United Kingdom passport with your application there is no requirement to have the reverse of your photograph certified. However, if you send any other documentation to confirm your identity with your application you will need to have the reverse of your photograph certified.
The person who signs the reverse of your photograph must also complete section 7 of your D1 form. The following persons are able to certify a photograph:
a local business person or shopkeeper;
a librarian;
a professionally qualified person, eg a lawyer, teacher or engineer;
a police officer;
a bank or building society officer;
a civil servant;
a minister of religion;
a magistrate;
a local councillor or an MP (AM, MEP and MSP).
Further Reading
For further information regarding the Medical aspect of an initial application or a renewal, please use the links below to Direct Gov.
Copyright © 2007 - | Transports Friend