CONTROL OF SUBSTANCES HAZARDOUS TO HEALTH
(COSHH)
Introduction
Using chemicals or other hazardous substances at work can affect peoples health. The COSHH Regulations were introduced to minimise the risk of ill health from the exposure to hazardous substances whilst at work. Whenever reasonably practicable, exposure to any hazardous substances should be avoided. When this is not possible, exposure should be controlled by substitution, isolation, proper training and good housekeeping. Where exposure cannot be adequately controlled by these means, appropriate Personal Protection Equipment (PPE) will need to be issued.
In most organisations some Hazardous substances will be used even if it's just cleaning products. If this is the case then the organisation must comply with the requirements of the current COSHH Regulations (Control of Substances Hazardous to Health Regulations 2002 (as amended).
What do they cover?
The COSHH regulations cover virtually all substances capable of causing adverse effects or disease arising from work activities. In these regulations, substances hazardous to health are defined as:
Substances classified as: very toxic, toxic, harmful, corrosive, irritant, or sensitizing according to the CHIP regulations (Chemicals, Hazard Information and Packaging for supply regulations)
Substances that have been allocated a workplace exposure limit, which are listed in the HSE publication EH40 Workplace exposure limits
Biological agents - e.g. bacteria and other micro organisms, cell cultures, human end parasite etc., if they are directly connected with work or if the exposure is incidental to the work
Any kind of dust in substantial concentrations in the air, e.g. wood-dust
Any other substance which creates a risk to health not covered above including asphyxiants, i.e. gases which are not dangerous themselves but can endanger life by reducing the amount of oxygen available to breathe; pesticides, medicines, i.e. cytotoxic drugs
There are a number of hazardous substances that do not fall under COSHH
Asbestos and lead as they have their own regulations
Substances which are hazardous only because of their physical properties such as flammable, extremely flammable, oxidizing or explosive. (These fall within the scope of the Dangerous Substances and Explosive atmospheres Regulations 2002 (DSEAR)
Substances used in medical treatment
Duties placed upon Organisations
The COSHH regulations place the following duties on the organisation:
Assess the risks - This involves identifying all the hazardous substances present and considering the risks these substances present to people's health
Decide what precautions are needed - Work must not be carried out which could expose employees to hazardous substances without first considering the risks and the necessary precautions, and what else is needed to comply with COSHH
Prevent or adequately control exposure - Exposure to hazardous substances must be prevented but where this is not reasonably practicable, adequately controlled
Ensure that control measures are used and maintained- It is necessary to ensure that any controls are used and maintained properly and that safety procedures are followed
Monitor exposure if necessary - In certain circumstances, it is necessary to monitor employees exposure to hazardous substances if:
There could be serious risks to health if control measures fail
Exposure limits might be exceeded
Control measure may not be working
Carry out appropriate health surveillance - Appropriate health surveillance needs to be carried out if the assessment identifies this as necessary or where COSHH sets specific requirements
Prepare plans and procedures to deal with accidents, incidents and emergencies - Suitable procedures need to be in place to deal with adverse situations in relation to hazardous substances
Ensure that employees are properly informed, trained and supervised - Employees should be given suitable and sufficient information, instruction and training in relation to the hazardous substances they may be exposed to.
In order to assess the risk and decide what control measures are required it is necessary to gather sufficient information about the hazardous substances. Safety Data Sheets must be available for all chemical products. These are information sheets that must be supplied for all chemical products classified as hazardous according to the criteria specified by the CHIP Regulations - Chemicals (Hazard Information and Packaging for Supply) Regulations 2002 (as amended).
CHIP Regulations
The CHIP regulations (Chemicals Hazard Information and Packaging for Supply) place very specific duties on suppliers of Chemicals in the workplace. They identify criteria by which hazardous substances are classified, how to package the chemical in a suitable way and what information needs to be displayed on the label and in the Safety Data Sheet. Hazardous substances will display one or more of the following symbols on the label which identifies the category of danger identified during the classification process as shown below:
European Symbols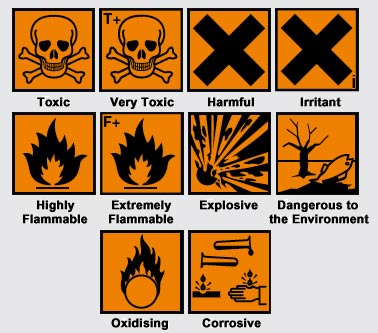 In addition the substance will have been allocated Risk Phrases that give more detail on the hazardous nature of the product and Safety Phrases that tell the user briefly how to handle the product in a safe way.
Currently there is a significant move towards global harmonisation of the classification and labeling of chemicals. New CLP (Classification, Labelling and packaging) Regulations identify new international hazard symbols and warning and precautionary phrases that must be used on labels which will eventually replace the danger signs, risk and safety phrases. There will be a transitional period as these are gradually phased in. The changes have to be completed by Dec 2010 for substances and by December 2015 for preparations.
Examples of the new pictograms are shown below.
New International Symbols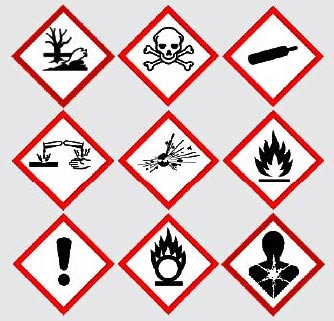 Substances affecting Health
The COSHH Regulations apply to substances that have been classified as affecting Health such as those classified as Corrosive, Harmful or Irritant and Toxic. Those with only physical hazards do not fall under COSHH but will still need to be assessed to ensure they are handled and stored in a safe way. The following general actions need to be carried out to ensure exposure to any hazardous substances is kept to the minimum and the above duties are adhered to:
Whenever reasonably practicable, avoid the use of hazardous substances by using safer alternatives.
An inventory of all substances hazardous to health kept on site will need to be maintained with appropriate hazard information, including a Safety Data Sheet from the supplier for all chemical products.
For chemical products, COSHH assessments will need to be recorded It is recommended that the procedure found in COSHH Essentials, published by the Health and Safety Executive is used. (see below).
Where engineering controls, i.e. fans, ventilation, drains, etc .are required to minimize expose they will need to be properly maintained and monitored to ensure their continued effectiveness. This should be achieved by planned preventative maintenance and performance testing.
Personal Protective Equipment (PPE) should be used only as a last resort or as a back-up measure during testing or modification of other controls.
The type and use of PPE will need to be carefully assessed and maintained in accordance with manufacturers' instructions.
The Assessments must be reviewed regularly
COSHH Essentials
COSHH Essentials - an easy way to control chemicals recognises 4 general control approaches that need to be applied dependent on the level of harm that can be caused through exposure by inhalation to the chemicals:
General Ventilation
Engineering Controls
Containment
Special
The control approach that is required is identified from a simple table that takes the following factors into account:
Hazard Group - all chemicals are placed in a hazard group according to the Risk Phrases that have been assigned
The quantity being handled at any one time
How easy the chemical can be breathed in i.e. how dusty or how volatile the chemical is
In addition further controls will be necessary for chemicals that have an effect on the skin and eyes. COSHH essentials also contains guidance sheets which give further details on actions that may need to be taken. COSHH essentials can be obtained as a hard copy from HSE Books or the on line version used at COSHH Essentials
An example of a reporting form adapted from COSHH essentials is available for download below.


COSHH Assessment Record Form
Further Reading
Further information can be found by visiting the links below on the HSE Website:
Copyright © 2007 - | Transports Friend