International Road Transport Cabotage Operations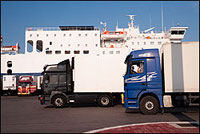 Cabotage, meaning the national carriage of goods for hire or reward carried out by non-resident hauliers on a temporary basis in a host Member State, is governed by Regulation (EC) 1072/2009 as of 14 May 2010. This regulation replaced Regulations (EEC) No 881/92 and (EEC) No 3118/93, as well as Directive 2006/94/EC.
The aim of the new Regulations is to improve the efficiency of road freight transport by reducing empty trips after the unloading of international transport operations.
Article 8 of the Regulation provides that every haulier is entitled to perform up to three cabotage operations within a seven day period starting the day after the unloading of the international transport. A copy of the regulations are available for download at the link below.
A haulier may decide to carry out one, two or all three cabotage operations in different Member States and not necessarily the Member State in which the international transport was delivered. In this case only one cabotage operation is allowed in a given Member State to be carried out within three days of entering that Member State without cargo.
UK hauliers who hold a Community Authorisation can engage in cabotage in the following EU member states:-
Austria, Belgium, Cyprus, Czech Republic, Denmark, Estonnia, Finland, France, Germany, Greece, Hungary, Ireland, Italy, Latvia, Lithuania, Luxembourg, Malta, Netherlands, Poland, Portugal, Slovakia, Slovenia, Spain, Sweden.
Hauliers from these countries are allowed to carry out the permitted number of cabotage in the UK.
Cabotage journeys in Bulgaria and Romania are restricted until January 2012.
For some of the new Member States transitional periods still apply and hauliers from these countries are excluded from performing cabotage in certain other Member States. These transitional arrangements are presented in the following overview at the link below.
It should be noted that International Hauliers are required to produce clear evidence of the incoming international carriage and of each consecutive cabotage operation carried out whilst there. Stipulations regarding this can be found in article 8.3 of the regulation and require the following evidence:-
name, address and signature of the sender
name, address and signature of the haulier
name and address of the consignee as well as their signature and upon delivery the date the goods are delivered
place and the date of taking over of the goods and the place designated for delivery
description of the nature of the goods and the method of packing, and, in the case of dangerous goods, their generally recognised description, as well as the number of packages and their special marks and numbers
gross weight of the goods or their quantity
registration numbers (identification plate numbers) of the vehicle and trailer
An operators vehicles undertaking cabotage must conform with the requirements for visiting vehicles and must also comply with the following conditions that would be applicable to a national operator in that country. These requirements include the following (as applicable to the rules prevailing in the relevant member state):-
Weights and dimensions
Adherence to the carriage of certain goods, these include the legislation applicable to dangerous goods, perishable foodstuffs and live animals
Adherence to the Drivers' hours Rules
Negotiation of the appropriate conditions of carriage applicable in the member state concerned. It should be noted here that in certain member states the conditions of carriage may be applied by law and it may well be necessary to confirm with your insurers the correct cover of insurance to cover all/any risks that prevail
VAT is recoverable from member states and must be charged under the arrangements and at the rate applicable in the member state in which the service is provided. It should be noted here that the haulier will require to be registered in that state for VAT purposes
Copyright © 2007 - | Transports Friend