Overloading of Vehicles
Introduction
Overloading a vehicle isn't difficult, and it's not always the case that drivers are aware of the fact that their vehicles are as such. However, it is an offence under the Road Traffic Act and carries a maximum penalty of up to £5,000 per offence, which could be as a result of overloading in connection with an axle (or axles), the gross vehicle weight or the train weight of the vehicle.
For operators and drivers of PCV's, be under no illusion, although you may have the correct number of passengers on your vehicle, there are also instances where your bus or coach can equally fall within the bounds of being overloaded.
Overloading - Your Defence
If your vehicle is stopped at a routine checkpoint and found to be overloaded, it will depend on the severity of the amount the vehicle is overloaded by. Anything less than 5% will be treated as a minor overload, the driver will be cautioned and it maybe that he/she will be allowed to proceed, or he/she will will be requested to have the excess load removed.
If the overload is serious, the vehicle will have to have the excess load removed and the driver and operator will be prosecuted.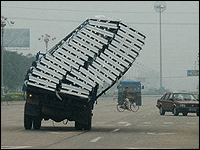 In some instances the overload may only be on an axle, but the gross vehicle weight is not exceeded. In cases like this, the driver will be expected to re-positioon his/her load to comply with the axle weights of the vehicle, although it will likely be noted by the enforcement officer and it's likely that the offence will be included on the operators OCRS (Operator Compliance Risk Score).
There are two statutory defences regarding the overloading of vehicles, which are that it must be shown that:
The vehicle was proceeding to the nearest available weighbridge to be weighed, or was proceeding from the weighbridge to the nearest suitable offloading point, or,
That the vehicle was loaded to within its legal limits and the weight (either gross, train or individual axle) had increased in transit by no more than 5% and nothing had been added to the vehicle since it was first loaded.
It must be remembered that overloading convictions can affect the decision of the Traffic Commissioner to suspend, revoke or renew a driver's vocational licence. If an operator and/or his driver is convicted of overloading, details of that conviction must be notified to the Traffic Commissioner or Traffic Area Office within 28 days of the offence being committed.
Overloading convictions may be taken into account by the Traffic Commissioner who may decide to take action against the Licence holder. It should be remembered that when applying for an Operators Licence the authorities must be satisfied that the applicant has made acceptable arrangements to avoid overloading as per the undertakings on the form GV79 when initially applying.
If a vehicle has been overloaded, the driver and operator maybe charged with the offence of using a vehicle in a dangerous condition, as the vehicle would no longer comply with certain parts of the Construction and Use Regulations 1986.
Overloading and the problems created by doing so
Overloading causes problems and likely consequences other than the obvious injury or potential loss of life to the driver, loading/unloading staff, other road users or the general public. The resultant problems caused through overloading any vehicle are:
significantly impair the driver's ability to brake and steer correctly.
causes excessive wear and damage to roads, bridges, and pavements etc
undue strain on tyres with the risk of tyre failure
causes the vehicle to be wholly unstable, especially on corners or at roundabouts
they are consequently unfair competition for other hauliers
the vehicle may become uninsured as the act of overloading is illegal
Overloading is not only a problem for larger goods vehicles, it is equally a problem smaller vehicles, such as vans, cars and passenger carrying vehicles.
The additional problems of overloading will hit the bottom line of all operators, as overloaded vehicles if stopped:
will not be able to continue their journey until the overload problem is rectified
money and manpower in having the excess load removed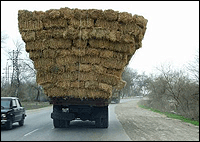 Preventing overloading
Overloading a vehicle, whether a goods vehicle, Passenger Service Vehicle (PSV), or car, is illegal. Preventing your vehicle(s) being overloaded isn't difficult and procedures should be put in place as a policy of best practice.
Companies need to have a "safety culture" in place which ensures that drivers understand weight legislation and immediately report any concerns that a vehicle is illegally overloaded to their manager. Their manager should investigate all concerns immediately to prevent overloading.
Putting a policy of best practice in place may seem an obvious solution, but it isn't always undertaken. It is all very well considering that your drivers and warehouse staff should know what is safe to load, but for the majority of general hauliers, their drivers will be loading from manufacturers or warehouse distributors etc.
Problems can occur when loading at customers premises where (through human error) the weight of the consignment note is incorrect. Equally so, it maybe the case that a client (or agent) merely wants the whole consignment to be loaded and doesn't consider the weight implications that may follow.
Whatever the case, a policy of vigilance must be foremost at all times.
Drivers/Operators of PCV's should also be mindful of the problems of overloading. An example of this could be a Coach operator undertaking excursions to the continent of Europe where the following items could bring about a possible overloading situation:
Skiing Equipment
Excess and overly heavy luggage
Excessive amounts of duty free beer or wine on the return journey
Example of the problem
VOSA employees, trading standards officers, and police officers carry out random checks at the roadside to enforce overloading regulations. Between April 2002 and March 2003 more than 57,500 vehicles were stopped and weighed by VOSA. The results were as follows:
| Vehicle Type | Vehicles weighed | Vehicles found to be overloaded and prohibited | %age of vehicles prohibited |
| --- | --- | --- | --- |
| Heavy Goods Vehicles | 50,223 | 3,770 | 7.51% |
| Passenger Carrying Vehicles | 297 | 16 | 5.39% |
| Light Goods Vehicles | 7,006 | 1,466 | 20.92% |
Further Reading
The link below offers further information regarding overloading.
Dangers of Overloading - VOSA and BRAKE

Copyright © 2007 - | Transports Friend